I'll be honest I've only been watching MMA for about 5 years. However, I've already seen how some fans can easily have an altered view of a fighters past. One of my favorite thing about other sports is the deep history they all have. I absolutely love looking back at records, and going "wow, that actually happened". A Sherdog user dug up some fight odds and rankings from 2001-2004 just before the TUF boom/rebirth. I'll be taking a look at them in this major MMA free week. Starting with 2004 (kay, I should have started with 2001, but whatever... it'll go 2004, then 2001 - 2003)
All data is taken from Sherdog forum by user "IRS". IRS said the website Archive.org was used to get this data. All data is compiled by "IRS", inaccuracies may occur. Please say so in the comments if there are any
Rankings 2nd half 2003


Quote:
Heavyweight:
1) Fedor Emelianenko (16-1-0)
2) Antonio Rodrigo Nogueira (21-2-1)
3) Josh Barnett (14-1-0)
4) Mirko Filipovic (9-1-2)
5) Tim Sylvia (16-0-0)
6) Andrei Arlovski (6-3-0)
7) Heath Herring (23-9-0)
8) Mark Coleman (13-5-0)
9) Wesley Correira (13-5-0)
10) Travis Wiuff (29-4-0)


Light Heavyweight:
1) Wanderlei Silva (25-3-1)
2) Randy Couture (12-6-0)
3) Quinton Jackson (20-4-0)
4) Chuck Liddell (14-3-0)
5) Vitor Belfort (12-3-0)
6) Tito Ortiz (11-4-0)
7) Renato Sobral (21-5-0)
8) Yuki Kondo (41-13-5)
9) Antonio Rogerio Nogueira (7-1-0)
10) Alistair Overeem (17-4-0)

Middleweight:
1) Dan Henderson (14-3-0)
2) Murilo Bustamante (9-3-1)
3) Jeremy Horn (67-12-6)
4) Matt Lindland (10-2-0)
5) Ricardo Almeida (7-2-0)
6) Nathan Marquardt (17-6-1)
7) Anderson Silva (10-2-0)
8) Kazushi Sakuraba (15-7-1)
9) Evan Tanner (28-4-0)
10) Paulo Filho (6-0-0)


Welterweight:
1) BJ Penn (7-1-1)
2) Matt Hughes (33-4-0)
3) Sean Sherk (21-1-1)
4) Jason Black (16-0-1)
5) Frank Trigg (10-2-0)
6) Renato Verissimo (5-0-0)
7) Jake Shields (8-3-1)
8) Hayato Sakurai (19-5-2)
9) Carlos Newton (12-9-0)
10) Nick Diaz (9-2-0)


Lightweight:
1) BJ Penn (7-1-1)
2) Vitor Ribeiro (9-0-0)
3) Takanori Gomi (15-2-0)
4) Marcus Aurelio (10-1-0)
5) Duane Ludwig (10-2-0)
6) Josh Thomson (10-0-0)
7) Yves Edwards (23-8-1)
8) Din Thomas (18-4-0)
9) Hermes Franca (8-2-0)
10) Joachim Hansen (7-2-1)



Featherweight:
1) Alexandre Franca Nogueira (10-2-2)
2) Jens Pulver (20-5-1)
3) Norifumi Yamamoto (7-1-0)
4) Joao Roque (8-1-4)
5) Jeff Curran (16-7-1)
6) Stephen Paling (11-5-1)
7) Remigijus Morkevicius (8-1-0)
8) Yoshiro Maeda (8-0-0)
9) Naoya Uematsu (13-3-2)
10) Ivan Menjivar (13-2-0)
*It's very strange that BJ Penn is already ranked over Hughes if that welterweight ranking is indeed "2nd half of 2003" seeing as though they would not have fought yet.
Jake Shields is like a cockroach. He always finds a way to make it into the top 10, just when you think you got rid of him, he's back. Like it or not, Jake is as elite as they come for grinders. There will always be someone in the top 10, Jake will be able to beat. Really makes me wish Shields vs. Fitch happened before Hendricks/Penn happened, then Burkman and WSOF. Shame. (Kind of serious, little sarcasm)
Fight Odds
UFC 46: Supernatural

Matt Serra -350
#5 FW Jeff Curran +275

#5 Vitor Belfort +185
#2 Randy Couture -225

*#1 LW & WW BJ Penn +200
#2 WW Matt Hughes -240

Frank Mir -225
Wes Simms +185

Jorge Rivera -115
Lee Murray -115

#9 Carlos Newton -225
#6 Renato Verissimo +185

Karo Parisyan -240
George St Pierre +200

#9 Hermes Franca -115
#6 Josh Thomson -115


GSP made his UFC debut, and almost 10 years later, he "retires/leave of absences". Crazy to think at this point Karo Parisyan was that big of a favorite. You had to bet $240 on Karo, just to win 100. But 100 on GSP to win 200. Suffice to say, GSP would have won you some cash.
Other upsets on the card:
BJ Penn moving up to welterweight defeating Matt Hughes (Has there been any other fighter that was ranked #1 in two weight classes at the same time? BJ doing that is one of my biggest arguments to why he's one of the GOAT in MMA)
Belfort beating Couture via cut
Verrisimo over Newton
This era of the UFC really, really reminds me of what Invicta has been doing. Events once every few months with the absolute best fighters. When's the last time on a card of 16 fighters, over half of those fighters were top 10 guys? Not that I'm complaining, it was just a different time, and I trust the UFC knows what they're doing, and filling a card with guys I don't care about is okay just so I can get to the main event or whatever that I do care about. Alls I'm saying is if you're gonna promote yourself as the #1 organization, don't have fucking Buddy Roberts and Marcus Levesseur on the roster. Whatever the UFC gave Hector Lombard, wouldn't you rather the UFC not have 10 Buddy Roberts-esque talent and put that money into giving Eddie Alvarez more money, so we could have seen him in the Octagon by now? Anyways..............
________________________
Lee Murray's only UFC fight
Lee Murray is one of a few fighters I wish got to see fight at least once live. Genki Sudo, Andy Huug and a plethora of boxers are some others. And it really puts me in a weird mood of what I feel he COULD have accomplished in MMA. A guy that could bang on the feet, and with adequate ground skills, who I believe was the first fighter to ever test Anderson Silva on the feet. He was suppose to fight Patrick Cote at UFC 52. Too many outside distractions, to say the least, running with the wrong group (for a professional fighter).
And if I'm being perfectly honest, I never really seen much of Lee Murray, before writing this, I had only read about him, and I instantly loved him. From the stories of KOing Tito Ortiz, all the crime (not that I condone it, just it made him more interesting and compelling), his post WW2 family, getting stabbed at Lauren Pope's birthday party, surviving from the verge of death. Just so many things. So, I heard his voice, and never really had a good picture of what he looked like. I watched his fight with Anderson a long time ago, but based on what I read and his name "Lee Murray" I just thought he was out of a British Gangster movie. Some Jason Statham, Lock, Stock and Two Smoking Barrels, The Bank Job type. Now, that I've seen more of his fights, heard his voice, have a good visual of what he looks like, I stand my that. He looks straight out of a Jason Statham, Lock, Stock and Two Smoking Barrels, The Bank Job movie.The guy that's considered the most loyal, but can also keep the "leading actor" in check, and when shit hits the fan, he ain't saying shit.
copy and pasted from wikipedia: He was sentenced to 10 years in jail in June 2010 for masterminding a 2006 £53 million armed raid in Kent, England. His term was then extended to 25 years on 30 November 2010.
Would love to see someone interview him in prison. Or how awesome would it be if footage of him showing some techniques off (not that teaching convicts more ways to kill someone is necessarily the wisest thing to do, but hey I'd watch.)
_________________________________________________
As you'll see with coming events, the UFC didn't use fighters names in the title as much as they do now, instead going with "Supernatural" or some other word. Almost unheard of today. When was the last time UFC did that for a PPV? UFC 109: Relentless?
Just looked it up and yes, UFC 109: Relentless, featuring Coleman vs. Couture in the first "heritage classic", the world's introduction to the little Chael Sonnen that could (not that many saw him take out Okami), the last time we saw Serra win in the Octagon as well as the last time we saw Frank Trigg fight in the octagon. Paulo Thiago before he would get wrecked in every fight and we were astouded that he was in BOPE. Oh, and Damian Maia was still a middleweight, and defeated Dan Miller propelling him to a shot at Anderson Silva, better known as the Clowning in Dubai. (Quick thought, what would the UFC had done if Maia had lost? Wanderlei? Dan Henderson... oh wait.) Jesus. I love looking back.


UFC 47: It's On!

#5 Tim Sylvia -170
#6 Andrei Arlovski +130

#6 Tito Ortiz -185
#4 Chuck Liddell +145

Johnathan Wiezorek -200
Wade Shipp +160

Chris Lytle -325
Tiki Ghosen +250

Genki Sudo -325
Mike Brown +250

#9 Hermes Franca -140
#7 Yves Edwards +100

Robbie Lawler -260
#10 Nick Diaz +200

#9 Wes 'Cabbage' Correira -500
Mike Kyle +300
(J)MMA legend, Genki Sudo picked up his 2nd and final UFC win against future WEC Featherweight Champ, Mike Brown
I'm surprised Tito is the favorite, even if it is the first fight with Chuck
Can you believe Yves Edwards already had 7 years MMA experience and over 30 fights going into this fight... in 2004!? Fast-forward, and Edwards has been doing this for 15 years. Truly one of the most under appreciated fighters of MMA's short history.
We've all seen it, Nick Diaz's (only?) one punch, southpaw jab knockout of Robbie Lawler. At +200 no less. I don't think I'm reading to much into that knockout by saying that changed Robbie Lawler. He moved up to middleweight for his next fight, losing to Evan Tanner, and then we didn't see him in the UFC for the next 8 years. Question: If Lawler defeats Johny Hendricks to become the new Welterweight champion and can defend the title once or twice, is he in your top 10 WW's of all time? And a Mark Hunt-esque comeback story, no?
"A match-up between Tim Sylvia and Andrei Arlovski for the then-vacant UFC Heavyweight Championship was scheduled for the event, but Sylvia was pulled due to a reoccurrence of positive drug samples just a day before the event. Arlovski was re-booked on short notice in a non-title fight against Wesley Correira, who was pulled from a scheduled main card fight with Mike Kyle to replace Sylvia. Wes Sims stepped in on a day's notice to face Mike Kyle at this event as well." - wikipedia
Pride Total Elimination 2004
ODDS TO WIN ENTIRE GP TOURNAMENT:

Fedor Emelianenko +125
Kevin Randleman +500
Antonio Rodrigo Nogueira +135
Heath Herring +1700
Paulo Cesar Silva +2500
Naoya Ogawa +2200
Semmy Schilt +1800
Sergei Kharitonov +1000
I'm not sure why IRS did not put all the fight odds up, but I found this by "dogofwar".. It's unclear where these odds came from originally. It amazes me that this was posted in 2004 on a MMA forum.
First Round Match-ups

#2 Antonio "Minotauro" Nogueira -2000
Hirotaka Yokoi +1000

#7 Heath Herring -300
Yoshiki Takahashi +220

Murilo Ninja Rua -120
Sergei Kharitonov -120

Ron Waterman -120
Gan McGee -120

#1 Fedor Emelianenko -265
#8 Mark Coleman +205

#4 Mirko Filipovic -500
Kevin Randleman +300


Odds To Win Tournament

#2 Antonio Rodrigo Nogueira +220
#1 Fedor Emelianenko +240
#4 Mirko Filipovic +250
Sergei Kharitonov +360
#8 Mark Coleman +450
Murilo Rua +800
Stefan Leko +1500
#7 Heath Herring +1600
Ron Waterman +1800
Paulo Silva Cesar +2500
Field (Any Fighter Not Listed) +500
I'm sure there were a lot of upset Fedor bettors at the NC (unless you get your money back).
By far the biggest upset was Kevin Randleman doing this to Mirko Cro Cop... A Cro Cop, who had only lost to Big Nog, and won his last 5 fights via some form of kick................ look away Cro Cop fans
.
.
.
Mauro Renallo's been doing this commentating thing for a long time too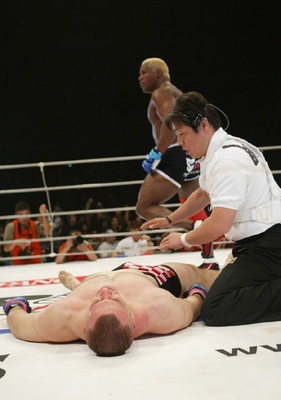 I'm a little skeptical about that -2000 Big Nog line... Yokai was 10-0 going into that fight
I find it very interesting how close the lines are for Fedor and Big Nog, but once we saw the fight it was beyond clear, that Fedor was on a level of his own. As you'll come to notice the talk of Fedor fighting "nobodies other than Cro Cop and Noguiera" isn't completely true. They might not be big names, but Fedor has fought many opponents that were ranked in the top 10 at the time.
Rankings May 2004


Quote:
May 2004

Heavyweight
1. Emelianeko Fedor - 99 Points (9 first place votes)
2. Minotauro Nogueira - 85 Points
3. Tim Sylvia - 82 Points
4. Josh Barnett - 74 Points (1 first place vote)
5. Mirko Cro Cop - 72 Points
6. Andrei Arlovksi - 69 Points
7. Heath Herring - 42 Points
8. Pedro Rizzo - 31 Points
9. Semmy Schilt - 25 Points
10.Frank Mir - 18 Points


Light Heavyweight
1. Wanderlei Silva - 96 Points (6 first place votes)
2. Randy Couture - 95 Points (4 first place votes)
3. Quinton Jackson - 81 Points
4. Chuck Liddell - 72 Points
5. Vitor Belfort - 60 Points
6. Dan Henderson - 46 Points
7. Tito Ortiz - 37 Points
8. Kevin Randleman 22 Points
9. Ricardo Arona - 20 Points
10. Babalu Sobral - 15 Points


Middleweight
1. Matt Lindland - 98 Points (10 first place votes)
2. Jeremy Horn - 90 Points (2 first place votes)
3. Evan Tanner - 52 Points
4. Ricardo Almeida - 50 Points
5. Phil Baroni - 42 Points
6. Anderson Silva - 39 Points
7. Amar Suloev - 36 Points
8. Nathan Marquardt - 30 Points
9. Lee Murray - 20 Points
10. Joe Doerksen - 19 Points



Welterweight
1. BJ Penn - 99 Points (9 first place votes)
2. Matt Hughes - 90 Points (1 first place vote)
3. Sean Sherk - 75 Points
4. Charuto Verissimo - 69 Points
5. Jason Black - 51 Points
6. Nick Diaz - 49 Points
7. Carlos Newton - 31 Points
8. Frank Trigg - 30 Points
9. Chris Lytle - 26 Points
10. Georges St.Pierre - 17 Points


Lightweight
1. Shaolin Ribero 97 Points (6 first place votes)
2. Bang Ludwig - 90 Points (4 first place votes)
3. Takanori Gomi - 78 Points
4. Josh Thomson - 70 Points
5. Yves Edwards - 69 Points
6. Hermes Franca- 43 Points
7. Joachim Hansen - 33 Points
8. Genki Sudo - 26 Points
9. Din Thomas - 25 Points
10. Jens Pulver - 23 Points
I'm not sure how competent these rankings are, but no Randleman, Hughes getting a 1st place vote.
It sucks that Couture never got to fight Henderson/Rampage/Wanderlei.
Middleweight and down is just packed with forgotten fighters.
Shaolin Ribero, Bang Ludwig (if it wasn't for Team Alpha Male), Din Thomas , Matt Lindland, Jeremy Horn. Jason Black!?, who was undefeated for the first 19 fights of his career... Verissimo, who now holds the dubious honor of being one of 3 fighters to be finished via TKO by Jake Shields. There hasn't been anyone else Jake Shields has TKO'd since Verissimo.
GSP enters the top 10.
Finally, the scarce amount of events, probably meant a monthly ranking was completely unneeded... hard to imagine today seeing rankings only put out once every 3 or so months.
.
.
You can contact me @ErikssonLau on Twitter | WMMAnalyze.com and Facebook.com/WMMAnalyze ... I normally write about WMMA, but this shit really gets my mind all hot and bothered.
Stay tuned for the next edition in the coming days of this Major MMA free week