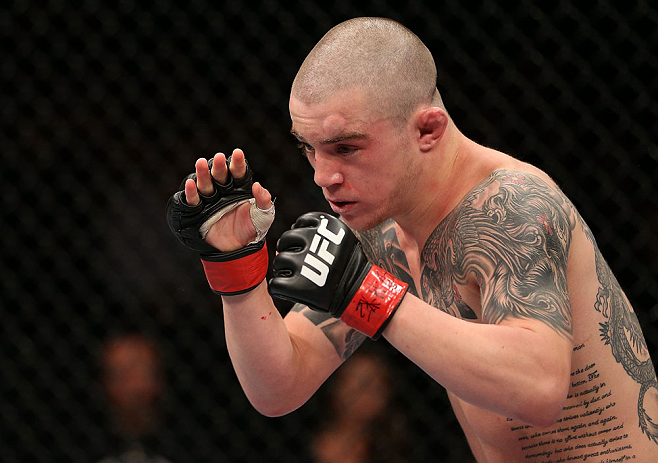 Almost one year from "The Ultimate Fighter: Live" broadcasted it's first episode, Andy Ogle, stands here today going into his second UFC fight with Josh Grispi at the UFC on FUEL TV: "Barao vs Mcdonald" event which takes place February 16th in London, UK.
Being that the show is originated in Las Vegas, USA, for these up and coming English mixed martial artists, the trip is one that you probably want to get something out of at the end of the journey.
Ogle travelled over 5000 miles in an attempt to seal a spot on the show and was not fazed by the possibility of failure.
"I had as much chance as anyone, probably more because I flew from Newcastle to Heathrow to LAX to Las Vegas just for the trials. There were guys that made short 2/3 hour journeys and I flew across the world to be there.
"I always had doubt. There was a lot of guys there. I just wanted my chance to get on the show and fortunately I got my shot."
Ogle also told me something that I thought was interesting, not only do the UFC test your fighting ability, they also wanted to test your "camera skills" too.
"We had been doing lots of promo stuff before-hand and things of that sort to see if you were good for the camera. A lot of auditions for the show so by the time filming was in progress I was used to it. It's just it became a 24 hour kinda thing when the filming was getting done in the house which was tough to get used to."
On every edition of The Ultimate Fighter, it seems that most of the time, they throw one English guy in there in a house that is predominately full of American fighters but a long with 1 or 2 other nationalities of course.
"I felt different that is for sure but that is why I made such a great connection with Cristiano Marcello straight away because we were not American. I am a friendly guy so it didn't take me long to make friends."
Ogle won his fight to get into the house against Brendan Weafer who he defeated by unanimous decision, he then went on to defeat Mike Rio via second round rear naked choke in a fight where Rio was a 6-1 favorite to defeat Ogle.
Unfortunately, he came up short against eventual finalist, Al Iaquinta who knocked Ogle out in the second round.
Just when it looked like Ogle's UFC aspirations were coming to an end, Dana White brought all the fighters into the TUF gym and told everyone they would be fighting on the finale card, however Ogle was excused from this because he was medically suspended for 90 days following his knockout loss which left him visibly distraught, looking like he was about to burst into tears.
Ogle wasn't about to let his UFC aspirations slip, he chased after Dana White before he left the room and asked for a spot on the UFC card in Nottingham which took place on September 29th 2012.
"If you don't ask, you'll never know. The squeaky wheel gets the grease. I asked and I got. to be able to fight full time is great so who wouldn't love him as a boss. He doesn't mix his words."
Ogle's first UFC fight took place when he fought TUF 14 contestant, Akira Corrisani. In a back and forth fight, Ogle lost the fight via split decision which left the Nottingham crowd very upset.
Round three ended with Ogle on top doing damage to Corrisani which looked like it sealed the deal in a close fight.
If you were to ask a fan in attendance that night who they thought won, the answer would be predictable, but Ogle remains humble,
"It was very close, the crowd was very upset when Akira was announced the split-decisive winner."
Looking back at the experience, Ogle seems to agree that he became a victim of what Dana White has called in the past, "octagon jitters".
"It was a daunting task, something which I built up in my head for such a long time. I think the occasion got the better of me a bit. I got my jitters out of the way and now I'm ready to bang."
Looking ahead to his next opponent, Josh Grispi, I asked him if he felt that Grispi had somewhat not fulfilled his potential seeing as he was once slated to fight current featherweight title holder, José Aldo at UFC 125 and is now on a 3 fight losing streak.
"Styles make fights. It's as simple as that, and its also how you go in mentally for the bout. Three losses off the trot is a heavy burden to deal with. Let's see how he faces it. I'm looking to make it a dog fight and take his will. I'm looking to smash him everywhere the fight goes and take no mercy on him."