Jon Jones has a very wide and unique range of techniques and takedowns he has added to his toolbox of weapons. Judo is one of his most valuable assets as he is able to use his leverage advantage from his reach to throw and trip top competition.

No other fighter has been able to pull off such flashy and eye-catching technique without flaw like Jon Jones. He has never been taken down, has taken down every single one of his opponent, and continues to build and mature as a fighter. We will cover the Judo of Jon Jones.
Jon Jones' Judo throws/trips
Osoto Gari on Matt Hamill
Since Matt Hamill and Jon Jones are both wrestlers, they both felt very comfortable in the single collar tie position since it is a very common position in collegiate wrestling. Being accustomed to wrestling techniques, throwing unorthodox judo techniques definitely caught Hamill off guard. The throw worked beautifully because Matt Hamill is usually back foot heavy.
Harai/Sasae Tsurikomi Ashi on Rashad Evans and Stephan Bonnar

Rashad Evans overcommits to an underhook, while looking for wrist control. Jones wraps a tight overhook and uses his southpaw stance to an advantage. He circles with his right foot to force Rashad to move his right foot as well to rebalance. But Jones blocks and trips his foot before he can readjust, throwing him with the single collar tie.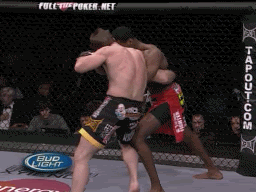 Here is Stephan Bonnar also overcommiting to the underhook. Bonnar was also pushing into Jones a lot harder than Rashad which is why this throw was more powerful. Jones also uses that single collar tie to control where Bonnar goes. A very common concept in wrestling is "Where the head goes, the body goes".
Kosoto Gari on Mauricio Rua
Jones ducks under Shogun's power hook for a standing arm triangle position. He then proceeds to drive forward while outside tripping him. Watch how Jon Jones grips Shogun's lower back (Tight Waist Grip, a common wrestling grip position) to prevent Mauricio from slugging and dragging his hips backwards to prevent the trip. The trip is executed a lot easier when your opponent is standing upright and your hips are under theirs.
Ouchi Gake on Rampage Jackson
Rampage successfully blocked the first attempt in the center of the octagon. But when Jones captured Rampage's head into a front headlock, he immediately diverts all attention to protecting his neck. This left his legs wide open for an inside trip which led to the choke that ended his night.
Here is a wrestler showing us a "pull and trip" method. He uses the front headlock to pull so the opponent steps to readjust, this is the leg that you want to attack with the inside trip.
This GIF was extracted from Mike Riordans Judo Chop. GIF belongs to him.
Ouchi Gari on Vlad Matyushenko
Vladamir charged forward and Jones ducks under looking for a double leg. Since he captured one of Vlad's legs into a single leg situation, he decides to trip out the other leg. This trip is the same technique used against Rampage but a different setup.
Harai Goshi
Since Jones is almost always taller than his opponents, he prefers to always use legs trips and leg throws. He hardly ever uses hip tosses or throws like Rousey or Parisyan. Here, Jones uses his favorite overhook position along with wrist control on the other arm. He then steps in front of his opponent's farside foot and rotates while tripping.
In all of Jones' fights, he always puts on a magnificant display of either Judo or Wrestling. You can expect more throws or trips when Jones continues to get more and more comfortable in the Octagon. His aresenal of techniques will continue to flourish as he grows as a Mixed Martial Artist.
Sam Park