Image above^, hosted at pinterest.com
It was approximately seven years ago, UFC 55: "Fury" back on October 7, 2005, Mohegan Sun Arena, Uncasville Connecticut. The card wasn't particularly star studded, with Andrei Arlovski and Paul Buentello headlining the show. However the top four fights were all groundbreaking finishes
^Image hosted at Wikipedia.com
Joe Riggs vs. Chris Lytle, Riggs with some of the best GNP I've seen, eventually elbowing Lytle off his back and the bout came to a halt to due a deep laceration over his eye.
Image at fighttimes.com
Branden Lee Hinkle vs. Sean Gannon, Sean Gannon has a victory in a street fight with "Kimbo Slice". Didn't hold much weight in the UFC though, as Hinkle took him to the ground and brutalized him with elbows until blood was spewing from his face. According to (UFC) President Dana White, Sean Gannon was hospitalized for weeks after his first and only appearance in the octagon.
.GIF by fightreport.com
Renato Sobral vs. Chael Sonnen, apparently this was some sort of grudge match. At the time Renato Sobral was one of the top contenders for a rematch with Chuck Liddell . So a win for Sonnen would have put him in immediate title contention. Chael got takedowns and looked controlling, but not enough against the Jiu Jitsu ace "Babalu", who twisted his ankle until Sonnen sounded, "Ahh"! It was until the second round, when Sobral caught him in the Triangle, tapped him out and sent him home.
Picture above hosted at fighttimes.com
Forrest Griffin vs. Elvis Sinosic, Griffins first firm test in the PPV shows, was against well seasoned veteran, Elvis Sinosic. Both fighters swinging to the final moment of the fight when Forrest Griffin stopped Sinosic in the first round with punches, for his first knockout/stoppage in the UFC.
Photo by knucklepit.com
MAIN EVENT OF THE EVENING FOR THE HEAVYWEIGHT CHAMPIONSHIP!
Andrei Arlovski vs. Paul Buentello, maybe at the time this was a highly anticipated match? But I wasn't too heavy into the UFC when I was younger, so really I couldn't say so. Andrei Arlovski won, fight ends at :15 seconds into round one. Not necessarily the hardest punch, but Buentello coming forward caused the perfect connection...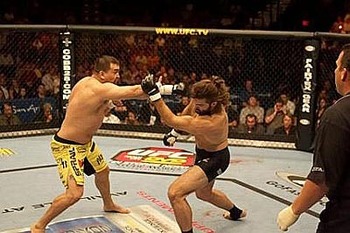 Hosted at bleacherreport.com
My point is that fans may be just a little over critical in these times. I can understand how a lot of die hard fight fans want to see the best fight the best, I would like that to happen as well. Let's give it some time...
Do you have the idea that the overall progression of the UFC has not come far enough? Me too, and a lot lately. But let's think twice, shall we. I can guarantee you, that this coming card on October 13th 2012, taking place at the HSBC arena, in Rio De Janeiro Brazil, will be everything but a dull show.
I can guarantee you that the live crowd and everyone at home who paid for the show, will not be as upset as the fans were, seven years ago at the "Mohegan Sun".
Stephan "The American Psycho" Bonnar has a three round battle against current Light Heavyweight, phenom, Jon Jones. After re watching that match the other day, I noticed something worth sharing with all of you.
Stephan Bonnar was overly tentative after the opening stanza, when the future champ kept throwing him on his head, something that Anderson Silva may not have the luxury of thoroughly executing. So if Stephan Bonnar can push the pace like he normally does, while keeping his guard up and picking his shots carefully, mixing high percentage offense along with great stand up defense, he has every chance in the world.
I'd have to say that the one thing that Bonnar has a problem with is his striking defense. Stephan comes out carefully, keeps his hands up high for a few rounds, can be all it takes to get in the mind of "The Spider"...
In conclusion, these Brazil events remind me a lot of the old Pride FC days, not many wrestler vs. wrestler matches and a lot more Muay Thai, Jiu jitsu and will to win by every competitor. Most of the past (UFC) events in Brazil, fighters show valiant effort, win or lose. Cannot wait to see Big Nog and Glover. Phil Davis is a warrior also and a physical specimen. Hope you all enjoy the fights on Saturday!